Scrap dealer near me
Scrap Dealer Near me
In a world where sustainability is gaining prominence, the significance of recycling and reusing materials cannot be overstated. Local scrap dealers play a pivotal role in this movement by providing an avenue for individuals and businesses to responsibly dispose of their scrap materials. One such notable player in this field is Reuze, a company offering a unique scrap pickup service that brings convenience and environmental consciousness together. In this blog, we'll delve into the importance of scrap dealers near you and shed light on the commendable scrap pickup service provided by Reuze.
The Role of Local Scrap Dealer
Local scrap dealers act as bridges between communities and recycling facilities, contributing to waste reduction and resource conservation. They buy and collect various recyclable materials such as books, papers, metals, paper, plastics, and electronics, home appliances, battery scrap, AC scrap, old tyres, mattress, old sofa set, clothes and many more which are then processed and reintegrated into new products. This process not only diverts waste from landfills but also reduces the need for new raw materials, thus lessening the strain on the environment.
Things to Consider When Choosing a Scrap dealer
When choosing a scrap dealer online or offline, there are a few things to consider. First, look for a dealer that is licensed and insured. This will help ensure that they are operating legally and safely. Second, consider the types of metal that the scrap dealer accepts. Some dealers may specialize in certain types of metal, while others may accept a wide variety. Third, check the prices that the dealer pays for scrap metal. Prices can vary from shop to shop, so it's worth shopping around to find the best deal.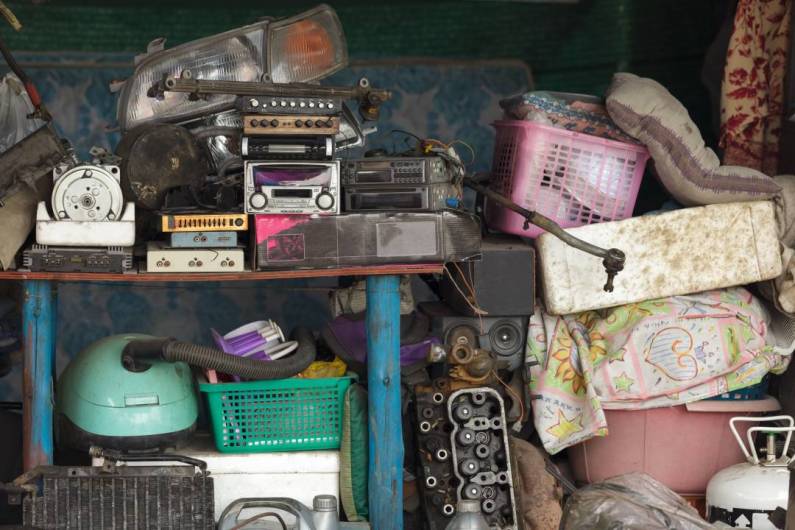 Introducing Reuze and its Scrap Pickup Service:
One standout among local scrap dealers is Reuze, a company that has reimagined the scrap collection process. They recognize that people are often eager to recycle and contribute positively to the environment but might face challenges when it comes to collection, disposal and transporting their scrap materials to a recycling center. Reuze addresses this concern through its innovative scrap pickup service.
The Advantages of Reuze Scrap Pickup Service:
Convenience: Reuze scrap pickup service eliminates the need for individuals to transport their scrap materials. This convenience encourages more people to participate in recycling, ultimately leading to greater waste reduction.
Time-Saving: Scrap pickup service saves time, allowing you to focus on other tasks while contributing to a greener planet. This convenience can be particularly beneficial to residential families with small quantity of scrap and also to the businesses with larger quantities of scrap materials.
Accessibility: The service extends its reach all over the city of Hyderabad including Gachibowli, Kondapur, Madhapur, Hitech city, Miyapur, Kukatpally, Nizampet, banjara hills, Dilsukhnagar, LB Nagar, Secunderabad, trimulgherry, yapral, sainikpuri etc., and to both residential and commercial spaces, ensuring that everyone has access to responsible scrap disposal.
Environmental Impact: By choosing Reuze scrap pickup service, you directly contribute to reducing your carbon footprint and promoting a more sustainable way of living.
Community Engagement: Reuze fosters a sense of community engagement by encouraging individuals and businesses to take an active role in recycling efforts.
Resource Conservation: By recycling through Reuze, you participate in conserving valuable resources and supporting a circular economy.
Reuze scrap dealer for the scrap pickup service?
1) 24/7 customer Helpline.
2) We Recycle and Donate your Scrap.
3) No rescheduling, Free pickup service.
4) Perform any heavy lifting on our own.
5) Mobile friendly App for your convenience.
6) Our branches are spread all around the city.
7) Digital Weighing Machine up to 200KG capacity.
8) Best Scrap value, No bargaining, on-time pickup.
9) Our personnel are kind and well-trained to serve you.
How Reuze Scrap pickup service works:
1) Download Reuze App and book your Scrap pickup service.
2) On the Day of your Pickup, our office personnel will coordinate with you until your pickup is done.
3) When to expect us, our field crew will call you approximately 01 Hour before arriving.
4) If you're available, keep the unwanted Scrap ready and in one place, or else tell them to Reschedule.
5) Our staff will sort, weigh, create a bill, pay the amount, and take the things.
6) Once the job is finished, we will request you to give your feedback, as it encourages our team spirit.
One call Does it all! if you have any queries or concerns related to our Scrap pickup service. Please check our FAQ list or connect with us on call or WhatsApp us at 88867 11101 / 88867 11102. We're glad to assist you!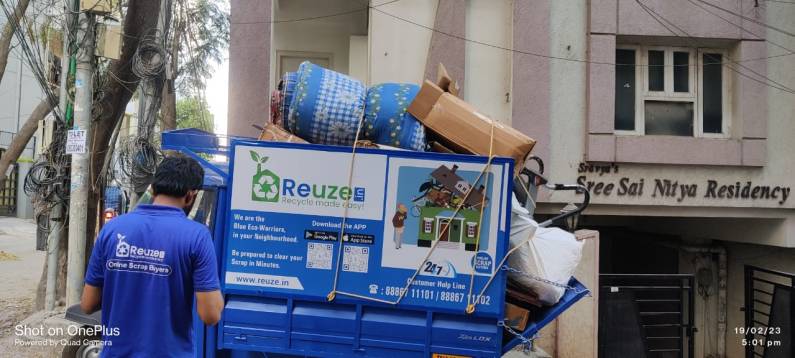 Conclusion:
Local scrap dealers like Reuze are catalysts for positive change, making responsible recycling more accessible and convenient for everyone. Their scrap pickup service streamlines the recycling process, fostering a culture of sustainability and environmental awareness. By choosing to engage with local scrap dealers and availing services like Reuze scrap pickup, you actively participate in the collective effort to reduce waste, conserve resources, and pave the way for a greener future.