Iron Scrap buyers near me
Reuze is your local iron Scrap Recycling shop! Operating in your neighborhood. We are ready & able to help reclaim your home or commercial space from iron junk! We are a full-service Scrap collection & recycling company helping our residential & commercial customers to pick and dispose of whatever type of Scrap they may have. Whether it's household or commercial iron scrap, heavy iron almirah, old iron racks, gym equipment, balcony iron grill scrap, iron doors, windows iron grills, iron motor scrap, lift scrap, electrical motor scrap, rusted iron bed, tin cans, broken metal chairs, old mattresses, broken electronics, old newspapers, old books, plastic scrap, old sofa sets, or all of the above, whatever you call it, if you don't need it, we can take it! We do our very best to recycle or donate your unwanted Scrap. We try our best to keep as much recyclable stuff out of our landfills as possible. We take proper disposal to heart!
Iron scrapyard near me in Hyderabad
Reuze Recycling Services is your local iron scrap shop for all things related to scrap removal in Hyderabad City! Whether you need assistance recycling old items like scrap metals, electronics, or appliances, or you simply have a lot of iron scrap that needs to be picked up, our helpful crew of junk haulers is prepared to finish the job swiftly and cheerfully. We can even assist with the removal of commercial Scrap for your small or large business. Let's relieve you of the burden of getting rid of all those unnecessary items.
You may be sure that we are handling all of your unwanted items safely and properly since we always make sure to recycle or donate every single unwanted scrap item we can. You won't need to consider it again! Your newly decluttered home will calm your mind, whether you're organizing your storage space, getting rid of an old, hefty iron almirah, or throwing away an old, rusty iron bed. This weekend, let us assist you in reclaiming some leisure time. You'll appreciate it more knowing that a clean environment is there for you, whether you choose to go on a family picnic or visit gaming areas in the city.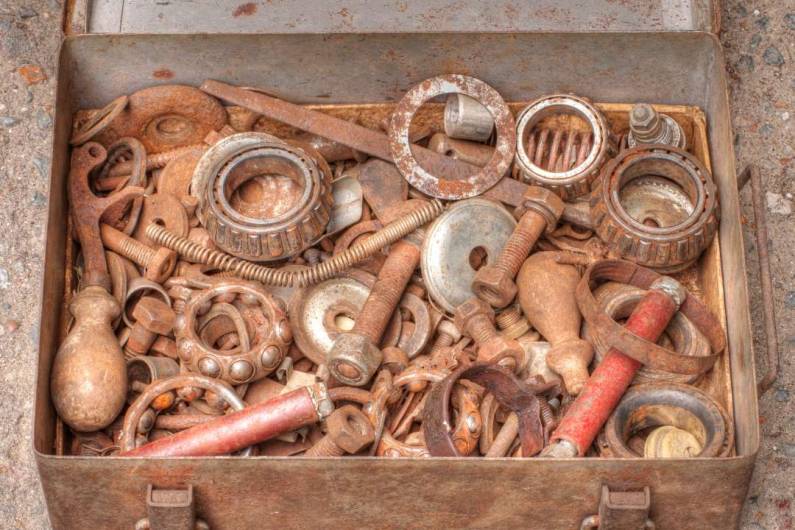 Iron Scrap metal dealer nearby
We are an online kabadiwala near you. We have scrap yards all over the city. You can consider us as an iron scrap metal dealer near you. We pick up a wide variety of Scrap items that contains a mix of iron metals like home appliances, washing machine, geyser, microwave, refrigerators, deep freezer, gym equipment, split AC Scrap, window AC, inverter Scrap, DVD players, televisions, CPU server boxes, old newspapers, old books, plastic scrap, Battery scrap, electronic waste and more.
If you're looking to get rid of some excess household iron Scrap items from your home or office in Hyderabad? Let the Reuze recycling team (known as Iron scrap buyers in Hyderabad) help with our quick and easy approach to iron Scrap collection, dismantling, and recycling.
We collect anything
Recycle everything!
We do all the work!
No bargaining, Instant payment
Free Scrap pickup service!
Iron Scrap buying and removal is not easy, but we are professionals in handling all types of Scrap work. we do all the segregation, dismantling, collection, lifting, loading, and disposal of all types of home appliances, electronic waste, and much more. With our competitive scrap price list, you will find us the best Scrap buyers in town. There are no hidden charges and we always offer a free Scrap pickup service. If you're happy with the price, we can start your Scrap removal right away!
Give us a call at Reuze today! we'll swiftly, safely, and responsibly dispose of any of your old metal junk.
Iron scrap shop near me
Your local iron scrap disposal problem can be solved by Reuze Recycling services! With scrap shops across the entire city of Hyderabad, we are prepared and equipped to assist in reclaiming your residence or place of business! As a full-service scrap recycling business, we are dedicated to assisting both residential and commercial customers with Junk removal. We live nearby and are always happy to assist. You won't have to raise a finger because our skilled eco-warriors can handle all the heavy lifting. All you have to do is the point, and we'll make your Scrap vanish!
Reuze makes every effort to divert as many recyclable materials as we can from the local landfills into sustainable disposal service locations. That means the local recycling companies are our priority when disposing of Scrap items. With this method of disposal, we're able to recycle as much as 60% of items away from local landfills and keep our operation eco-friendly.
We can take it if you no longer need it. We make every effort to recycle and donate to nearby charities to keep as much junk out of our landfills as possible. We are serious about proper disposal!
Book your Scrap Day Today!
Reuze offers the same or next-day service for all of your Scrap disposal needs. You can download our reuze App or book online for the same or next-day pickup or call us at our number and when we arrive, we can have your Scrap gone within Minutes!
How our Scrap Metal Recycling service Operates
1) Scrap Metal Recycling services in LB Nagar, Hyderabad. We don't charge, we pay for your Scrap.
2) Download our Reuze App or book your Scrap metal recycling request online through the website.
3) On the Day of your Pickup, our office personnel will coordinate with you until your pickup is done.
4) When to expect us, our field crew will call you approximately 01 Hour before arriving.
5) If you're available, keep the unwanted Junk ready and in one place, or else tell them to Reschedule.
6) Our staff will sort, weigh your Scrap, create a bill, pay the amount and take the things.
7) Once the job is finished, we will request you to give your feedback, as it encourages our team spirit.
If you have any query or concern related to our Scrap Disposal Service near you, please connect with us on WhatsApp or call us at 88867 11101 / 88867 11102.
We appreciate your Support for Ethical Recycling.
Team
Reuze - Online Scrap Buyers!